Depending on the level of conservation needed to preserve the painting, a proposal can range from an aesthetic treatment where the tonal balance of the piece is recovered through cleaning; to stabilization of the layered structure where the paint and ground layers are consolidated; to full structural conservation where the support is repaired as in a tear repair or lining.
A typical treatment may involve all or some of the following:
STRUCTURAL RESTORATION
Restoration of the support may be necessary if the support has been compromised, such as a tear in the fabric of a painting.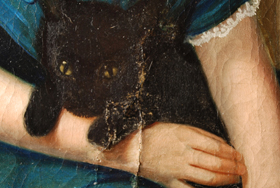 The tacking margin, the edge of the painting that folds over the stretcher, secures the canvas to the wooden stretcher. It can become brittle and weak over time and was often removed entirely in old restorations if the painting was lined to a new fabric. Restoring the integrity of tacking margins is vital in supporting the painting.